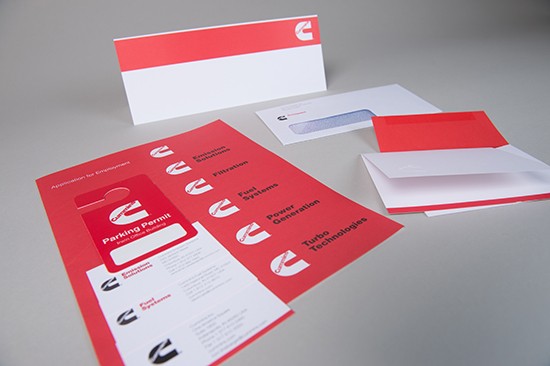 About
Headquartered in Columbus, Indiana, Cummins Inc. is a global designer, manufacturer and distributor of service engines and related technologies. Fineline works with twelve Cummins distributors to provide printed materials in the US, Canada, and the Caribbean. Cummins has been a Fineline client and partner since 2005, when we began printing stationery, business cards, envelopes, and other stationery-type products for them. Our work has now expanded to well over one thousand items, from parking tags to labeling forms, all of which are now ordered from our customized online ordering system.
The Challenge
Cummins rebranded and updated all stationery and related materials, and needed a way to quickly and reliably get new materials to all distribution centers
They were using an outdated online ordering system
Their printing needs were rapidly expanding to meet the needs of a global economy
Cummins wanted to use a company that was a certified Minority Business Enterprise (MBE)
The Fineline Solution
As a certified MBE, Fineline was able to help Cummins meet its U.S. and global requirements to use a minority business for their printing needs.
Fineline looked at how Cummins was ordering their existing printed materials, and knew we could develop a smoother, more cost-effective and more accurate ordering system for them.
To get the job done, Fineline set up a browser-based online store with a customer interface that was easier to use.
 We also:
Set up quarterly meetings with key Cummins staff to track delivery metrics and compliance updates.
Created an Inventory Management system to warehouse and tracked all printed, stored and shipped Cummins goods.
As Cummins added more items to their improved online storefront, we steadily wowed them each quarter with high performance, quick turnarounds, and 99% on-time deliveries.
As Cummins updated materials and added global distributors, we put software in place that tracked updates and eliminated outdated materials.
When Cummins implemented a new corporate purchasing system (Ariba), Fineline's IT department developed a single sign-on integration allowing users to be compliant with purchasing requirements in fewer steps.
The Outcome
Fineline is now a trusted Cummins partner. We work side by side with Cummins staff, growing their storefront to match their growing business. We take the time to develop more streamlined,  effective ways to communicate with and supply to every new Cummins global customer.
There are lots of moving parts to our relationship. Our work with Cummins now encompasses multiple Fineline departments including sales, customer service, IT, warehousing, mailing, and shipping. We also provide service to hundreds of Cummins representatives in quantities up to tens of thousands of items at a time, providing materials all over the world.
 In addition Fineline:
Developed a Cummins branding standards guide for nearly 100 internal users to assure consistency and quality control.
Set up a storefront data tracking and product accountability system for all materials providing cost savings and avoidance processes of up to 5% each year.
Receive weekly emails from 60 departments requesting the creation, revision or new translation of printed materials.
Turned around email requests for materials within 24 hours.
Hired a translation company to accurately translate printed materials en route to foreign countries, saving Cummins multiple days in project completion time.
Provided a monthly internal audit to Cummins on new products, on-time delivery performance, pricing metrics, and deletions (outdated materials). Cummins average satisfaction ratings for us is 4.25 and continues to climb upward to our goal of 5.0.