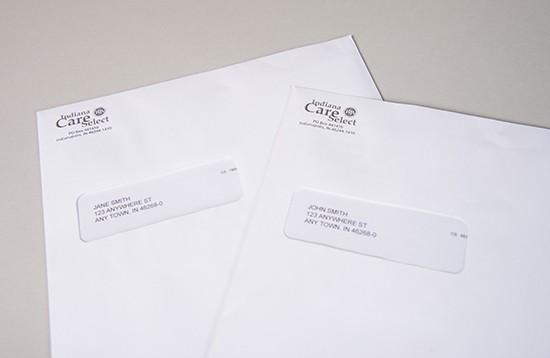 About
 "MAXIMUS manages the state of Indiana's Medicare and Medicaid health programs known as CareSelect and Hoosier HealthWise. In addition to managing both programs, MAXIMUS helps determine consumer eligibility and enrollment, provides outreach and education, and aids Hoosiers in finding and choosing the most appropriate plans and physicians for their needs. A Fineline client since 2007, MAXIMUS depends on Fineline for printing and processing Indiana CareSelect and Hoosier HealthWise client directories and related program materials.
The Challenge
MAXIMUS was producing large quantities of medical directories and distributing them via a manual 'pick and pack' system
The client base for CareSelect and Hoosier HealthWise was expanding rapidly, outgrowing their present systems
They needed a way to simplify, streamline and quicken the pace of their printing and shipping methods
MAXIMUS wanted to deliver new client materials within 48 hours to meet government regulation and keep customer satisfaction rates high
Every MAXIMUS mailing needed to be compliant with HIPAA requirements, and meet all state and government requirements for response and reporting.
The Fineline Solution
Fineline made sure we understood the growing, quickly changing needs of MAXIMUS before we began to work on solving their data, print and delivery issues.
The Fineline team looked at how MAXIMUS produced and shipped their medical directories. We felt strongly that their outdated fulfillment system contained many opportunities for shipping errors. We wanted to develop a smoother, faster and highly accurate ordering and fulfillment system for MAXIMUS' growing state health programs to help them meet or exceed all state requirements.
Our first step was to take the medical directory production in-house and begin to improve the process. Fineline proposed removing the print-and-store methodology MAXIMUS used and replace it with Print on Demand, saving MAXIMUS time, money and wasted materials.
Fineline worked to refine the data transfer process of critical information next. We noted that prior to our involvement, data transfer occurred nightly and 'pick-and-pack' ticket requests were initiated the following morning with packages distributed by end of day. Pick items were selected by county area, put in envelopes, and address labels were affixed.
By moving to a Print on Demand system, we streamlined this multi-step process. When data came in, it was segmented by county, and directories for each county were printed as needed. These 60-to-96 page directories had customer addresses printed directly on their back covers. Each was inserted into a window envelope showing this address to save the cost and time of printing labels.
Using Fineline's Digital on Demand services, we were able to update MAXIMUS' cumbersome processes. Every night, new data was processed directly to our Digital Sheet-fed presses, producing fully finished and addressed county directories ready for shipping. Invoicing data was calculated during production to save an additional step after each run.
Additionally, Fineline:
Vastly reduced waste by eliminating outdated brochures. Since program doctors frequently change, medical directories must be constantly updated. By switching to Print on Demand, there were no longer outdated directories to purge and no incorrect information being distributed.
Response files for accurate and required government reporting were processed nightly, directly from MAXIMUS' third party data feed, saving another step
All mailing and all first class postage are processed through NCOA (National Change of Address database) and new more accurate customer information is provided back to MAXIMUS
Streamlined processes saved the MAXIMUS and Healthy Indiana plans (which also use Fineline Print on Demand) postage and packaging costs, as groups of plans could now be consolidated and sent together.
The Outcome
Fineline's switch to a Print on Demand process saved MAXIMUS costs by eliminating inventory over-production while still meeting state-mandated turn time.
Printing directories as needed and printing customer name and address directly on the product also saved considerable daily production time and reduced address errors.
Fineline consistently impressed MAXIMUS each quarter with next day shipping, 99% accuracies and 20% client mailing increase each for the last several years.
Our adaptability, knowledge of data programming, shipping, tracking metrics, and exceedingly high IT standards made us the perfect team member for this rapidly growing organization.